There are many, many versions of the January 8, 1815 Battle of New Orleans. None of them, so far, seem to tell the history in a manner that would be most fair to the participants.
Most ignore completely the most important detail:
American forces were made of free blacks. Specifically, of the 1,000 Louisiana militia and volunteers in the battle, it was nearly 50% black men. The U.S. Army even has a print set called "The American Soldier" with a depiction of a black free men battalion in action to celebrate this fact.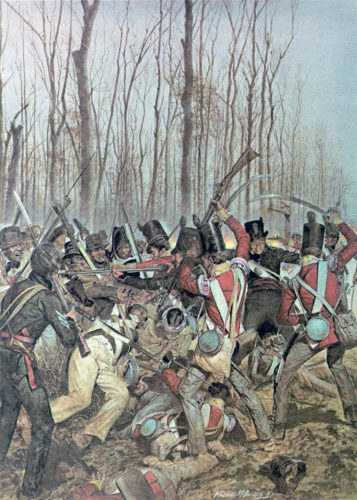 An example of a site that does mention the black soldiers is the Tennessee Historical Society.
[Jackson] included a large number of both free men of color and enslaved black men in and around the city. To recruit the former, Jackson promised them the same wages and, equally important, the same respect as their white compatriots — a unique opportunity for black and Creole residents living in a Southern city committed to white racial superiority. For those enslaved, he appealed to their desire for freedom.
Take a moment to question the statement New Orleans was "committed to white racial superiority".
Lacking any citation at all, it sounds baseless to me.
Although it is true that New Orleans brutally put down a huge slave revolt in 1811, the non-white free men before and afterwards still were present and exercising their rights.
A good resource on this is the Louisiana Digital Library: Free People of Color collections, which is full of first-person materials as well as insights such as "white soldiers were thought cheaper than Negro slaves" and statements like "all the difference between a free man of color and a slave, that there is between a white man and a slave".
During both Spanish and French rule of the colony of Louisiana the "free men of color" regularly served in militias. So when the U.S. took over New Orleans, it started with an integrated military.
At the time of the Louisiana Purchase in 1803, about 16% of the roughly 8000 people living in New Orleans were free people of color. The first official U.S. census of the Orleans Territory in 1810 counted 7,585 free persons of color, or about 10% of the total population.
Remember how above I mentioned 50% of Jackson's force from Louisiana was non-white? That's a huge jump up from being just 10% of the population.
The above quote from the Tennessee History site is followed-up soon after on the same page by another odd statement:
Jackson not only ordered all black troops out of New Orleans at the behest of white residents who were fearful of armed black city-dwellers; he also reneged on his offer to free his enslaved troops and instead, ordered them to return to their slave-owners.
Let me try to untangle this.
First, Jackson saw black men as a potential enemy. When Governor Claiborne offered black freemen as soldiers, Jackson responded that arming them and putting them into harms way would prevent them siding with the British.
The free men of colour…will not remain quiet spectators of the interesting contest. The must be for, or against us — distrust them, and you make them your enemies, place confidence in them, and you engage them by every dear and honorable tie to the interest of the country who extends to them equal rights and privileges with white men.
This probably explains the exceptionally high percentage of black men serving, relative to population numbers.
Second, Jackson did not have honest intentions. Of course the freemen were promised equal pay, equal treatment, freedoms and so forth but Jackson appeared to have every interest in having non-whites on his side, with no intentions of honoring his word when he no longer needed them.
In other words, a large U.S. military force of veteran black free men and slaves was used by Jackson to deliver victory yet his response was to deny those men freedom (as he had promised) at the time of victory and then, as he became U.S. President allegedly in part from the tales of this battle, to strip free black men in America of their voting rights and perpetuate slavery.
PBS has an excellent explanation of how free men under Jackson suffered greatly, as he founded white-nationalist sentiments and stoked racial divisions in America that remain a challenge today.
Before 1800, free African American men had nominal rights of citizenship. In some places they could vote, serve on juries, and work in skilled trades. But as the need to justify slavery grew stronger, and racism started solidifying, free blacks gradually lost the rights that they did have. Through intimidation, changing laws and mob violence, whites claimed racial supremacy, and increasingly denied blacks their citizenship. And in 1857 the Dred Scott decision formally declared that blacks were not citizens of the United States." […] "The concepts of 'black' and "white" did not arrive with the first Europeans and Africans, but grew on American soil. During Andrew Jackson's administration, racist ideas took on new meaning. Jackson brought in the "Age of the Common Man." Under his administration, working class people gained rights they had not before possessed, particularly the right to vote. But the only people who benefited were white men. Blacks, Indians, and women were not included.
Jackson's sentiments greatly foreshadowed treatment of American blacks later who served in wars. Most notable perhaps was the 1921 massacre of WWI veterans in Tulsa by the KKK restarted by President Wilson under the America First campaign.
Source: http://www.flyingpenguin.com